Join us for open gym Friday nights! 7-9pm $5 per athlete
NEW TO NORTH FLORIDA ELITE? CREATE AN ACCOUNT TO SIGN UP FOR CLASSES
Class Schedules Parent Login Create Account
Thanks for visiting North Florida Elite
The Hottest cheer gym in the Lake Area Region!
Voted top 20 small gyms by "The Cheer Leader Magazine"
Join us in our 8th Season!
Congrats to our J1 and J3 teams on their bid to Summit
We hope you enjoy your time together with us. If you have any questions,
you can call us at (352) 672-1126 or email stef@northfloridaelite.com or kyle@northfloridaelite.com
Our mission at North Florida Elite Cheer & Tumble is to provide quality instruction in a fun, safe and positive environment. We are dedicated to providing an atmosphere in which EVERY child can experience the thrill of success, regardless of skill level.
Thank you for considering North Florida Elite Cheer & Tumble for all your tumbling and cheer needs. We look forward to working with you and your family!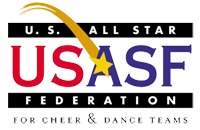 Sign Up For A Free Class!